Peter Kreher wins Community Service Award from the Northwestern Mutual Foundation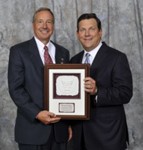 Pete assisted in South Oakland Shelter receiving a $10,000 grant from the Northwestern Mutual Foundation in recognition of financial representative Peter Kreher, CLU, ChFC's outstanding volunteer involvement as part of the company's 16th annual national Community Service Award program. Kreher was one of 25 financial representatives recognized as top volunteers. 
Financial security is often a major objective in each of our lives. You try to do what's right for those you care about, but the wrong financial decision can often undermine the best of intentions. Whether you are concerned for your own financial needs or those of your family or your business, I can help you identify your needs and provide complementary solutions.
My Mission
As a Northwestern Mutual Financial Network Representative, in all situations I will make those recommendations which I would do for myself and my family if faced with a similar situation.
By matching your needs with innovative solutions utilizing world-class insurance services and internationally recognized investment products, I will do my best to help you protect and provide for those people you care about most. I will work hard to build a relationship with you based on trust and integrity, always striving to provide you with the same level of ethical service that I would expect for myself.